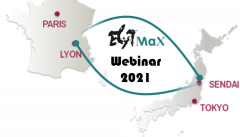 ELyT Global
ELyTMaX Webinar
We are pleased to announce the first ELyTMaX webinar. ELyTMax is an International Research Laboratory (IRL, formerly UMI) between Lyon and Tohoku University, Japan. The lab activities are related to Materials and Systems Under Extreme Conditions which include numerous topics, and the webinar will cover these topics with presentations from outside experts. You can find the flyer here.
The Webinar will be held online, using Zoom webinar. You can register to the webinar here (the webinar will start at 9:00 but the system will be operational at 8:00).
Meanwhile, we wish you all the best for the end of 2020, and a Merry Christmas and Happy New Year. Let's hope that 2021 will allow to come back to more "normal" situation!